FLO FINDS A SILVER LINING FOR CLAUDIO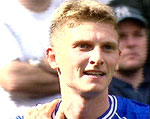 Manchester United 3-3 Chelsea
Scholes 13, Sheringham 37, Beckham 39 - Hasselbaink 8, Flo 45, 70
FA Carling Premiership
Tim Hobbs reporting
Two goals from Tore Andre Flo made sure that Claudio Ranieris Chelsea emerged unscathed from a nightmare start at the Theatre of Dreams.
The Norwegian struck either side of the break to douse the Manchester United flames that had threatened to give the Chelsea manager a red-hot baptism of fire.
United had stormed into a convincing 3-1 lead before Flo stooped to head home Le Sauxs centre right on half-time and throw his side a lifeline.
He then completed the comeback on 70 minutes from another Le Saux cross to leave the Premierships longest-serving manager sharing out the spoils with the newest.
The early kick-off and the start of Ranieris reign meant the morning meeting of two of the giants of the game suddenly shifted the spotlight away from the Olympics.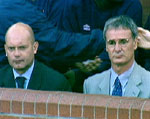 And little more than an hour after the 100m sprint medals were handed out, it was Ranieris men who came charging out of the blocks to take an early lead.
Eight, bleary-eyed minutes had gone, when Le Sauxs deep cross was hooked back from the by-line by Flo to the edge of the box where Hasselbaink twice a scorer of rare Leeds goals against United chested down and simply smashed the ball high into the top left-hand corner of the net.
It was never going to be enough to beat a United side averaging three goals a game but it should have been ample early ammunition to hold the champions at bay.
But some comic-book defending that would have Ranieri rifling through his English dictionary for adjectives not usually used for international defenders helped the home team turn the game on its head.
On 13 minutes a Denis Irwin centre was only scuffed to the edge of the box where Scholes needed no second invitation before firing in a low drive across Carlo Cudicini and just inside his right-hand post.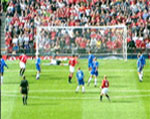 If that was not bad enough for the Blues, Roy Keane was allowed to stride through 10 minutes later but saw his effort to avenge his Charity Shield sending off smothered by the 'keeper.
Cudicini was given even less protection just eight minutes from the break when what was little more than a hopeful ball into the box bounced past attempted clearances from Christian Panucci and Frank Leboeuf and mis-kicks from Scholes and Andy Cole for the unmarked Teddy Sheringham to sweep home.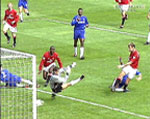 Another sixty seconds on and Ranieri must have wondered what sort of defence he had inherited as a simple touch from Sheringham freed Cole who lifted his shot against a post only for David Beckham who had only just come back into the action after a nasty headwound to bound in unnoticed and beat a static backline to the rebound.
One man who will escape any criticism aimed as his rearguard colleagues is Graeme Le Saux. Made skipper in Dennis Wises illness-enforced absence, the left-back led the Chelsea fightback and it was his work right on half-time that helped Flo fling out the lifeline.
Galloping down the left in a manner that England so sorely lacked in Euro 2000, Le Saux took the ball right to the dead-ball line before crossing for Flo to plant a header past Edwin van der Gouw, although the keeper will need to explain how the ball managed to hit his stationary leg before creeping into the corner.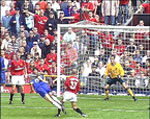 After such an explosive start, the game was always going to settle in the second half, although Ranieri showed his well-documented tactical awareness by bringing on Mariot Melchiot for John Harley and adding some much-needed muscle to his midfield.
But Le Saux still drove his side forward and after somehow scooping a Cole effort off his line after the England man had embarrassed Desailly with a delightful nutmeg, it was the Chelsea skipper who carved out the third goal.
Skipping round Beckham wide on the left, he again advanced before picking out Gianfranco Zola, whose deft touch fell for Flo to curl a precise finish low past Van der Gouw without a tackle in sight.
A furious Sir Alex Ferguson reshuffled his own pack - with Solskjaer and Brown on for Cole and Irwin - in attempt to stir his aces. But it was to no avail.
Man Utd: Van Der Gouw, G. Neville, Irwin, Johnsen, Silvestre, Beckham, Keane, Scholes, Giggs, Cole, Sheringham.
Subs: Bosnich, Solskjaer, Butt, P. Neville, Brown.
Chelsea: Cudicini, Panucci, Le Saux, Leboeuf, Desailly, Di Matteo, Morris, Zola, Harley, Hasselbaink, Flo.
Subs: Bogarde, Hitchcock, Melchiot, Ambrosetti, Dalla Bona.
Referee: P Jones (Loughborough)
---
FERGIE HAPPY WITH HIS POINT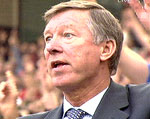 Sir Alex Ferguson refrained from launching into his troops despite seeing them surrender a 3-1 lead against Chelsea.
The United boss admitted his side could well have been four up before Claudio Ranieris men launched their fightback and had no doubt where the game started slipping away from United.
Ferguson said: The key to that game was the second goal right before half-time. I thought that was a bad goal to lose from a cruising position.
If they had been 3-1 down their team talk would have been different and my team talk was different because we had lost a goal at half-time.
So that was the key to it. That gave them their spur; that gave them a chance to change their tactics and they made it very difficult by operating the three in midfield, tied the game up.
Fergie felt his side were also feeling the effects of their midweek trip to Kiev as they dropped their first Premiership points at home since March.
They started sluggishly, hit back to take a 3-1 lead and then wavered towards the end before wasting a golden chance through Ryan Giggs to take the spoils leaving Fergie relatively relieved with the outcome.
He said: I think they were off colour today and yet in the first half we could have been four up.
Really, they (Chelsea) dominated that period from the second half right up to 20 minutes to go and deserved their equaliser.
Chelsea manager Claudio Ranieri needed an interpreter to speak to Sky Sports, but his delight was never in danger of getting lost in translation.
He said through his interpreter: Its been a great game. Its been a very intense game with a lot of goals, and I hope the public have enjoyed it.
Ive complimented the team because they played with great spirit against one of the best teams in the world.
I complimented all the players because they all played with the spirit that I want to see.
This is a good moment of trust for the team, and its a great start.
---
All the action as it happenedAll the action as it happened

F-T: 3-3
Second half
45mins: Ranieri swaps Harley for Melchiot
54mins: Chelsea sub Melchiot fires across goal
56mins: Van Der Gouw blocks Panucci's near-post header
58mins: Hasselbaink blasts over after Silvestre slip
65mins: Le Saux off the line after Cole nutmegs Desailly
70mins: GOAL! Flo curls in simple finish after Le Saux centre
76mins: Butt on for Sheringham after dust-up with Morris
80mins: Solskjaer and Brown on for Cole and Irwin
83mins: Giggs skies over the bar after Solskjaer lay-off
86mins: Leboeuf just fails to convert Hasslebaink cross


H-T 3-2
First half
1min: Claudio Ranieri's Chelsea reign begins
2mins: Hasselbaink heads wide from Zola cross
8mins: GOAL! Hasselbaink crashes into top corner after Flo pull back
13mins: GOAL! Scholes smashes half clearance home from 20 yards
17mins: Beckham free-kick comfortably saved
20mins: Keane booked after second hefty challenge
22mins: Beckham leaves field with blood pouring from headwound
23mins: Cudicini saves well from Keane after one-two with Cole
37mins: GOAL! Sheringham slots home as Chelsea fail to clear cross
39mins: GOAL! Beckham turns in rebound after Cole hits the post
45mins: GOAL! Flo heads home Le Saux's left-wing cross